I love breaking out the leather goods in the fall and this year its never been bigger. While I've never been one to take a stand against using real leather, it often is expensive and as I don't have a lot of money at my disposal, sometimes the leather "look" works just as well. Leather is a great way to add toughness to a softer, sweeter look or just to add extra oopmf to a sleek, chic look. Below are some of my affordable picks under $100 to get that cool leather look:
ASOS Top in Knit with Leather Look Sleeves $42.58

Vero Moda Leather Look Pleated Mini Skirt $51.74
River Island Leather Look Shorts $51.74
Hearts & Bows Leather Look Seamed Leggings $34.47
** I personally like leather leggings rather than actual leather pants – they just seem more comfortable and also I think you can avoid this situation:
River Island Leather Look Sleeve Army Jacket $94.85
ASOS Pencil Skirt in Leather Look $51.74
Faux Leather & Ponte Pants 
$17.80
Faux Leather Baseball Jacket 
$34.80
Short Faux Leather Skirt 
$13.50
** Black leather is pretty standard but berry and burgundy hues are super big right now – I'm looking to branch out.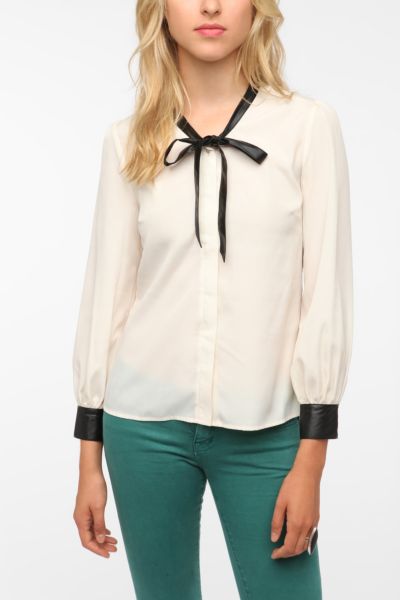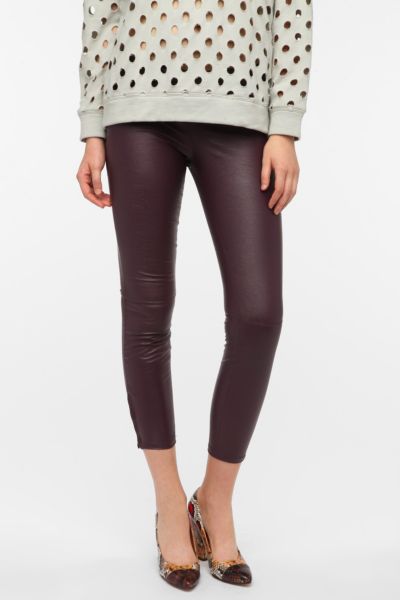 Halogen Mixed Media Shell $59.00
Thread & Supply Faux Leather Moto Jacket (Juniors)$68.00
ASOS Leather Push Lock Across Body Bag NOW $48.29
ASOS Leather Obi Waist Belt $34.49
** This is a great piece to cinch in a dress, tunic or coat
GAP  Scrunch flats Regular Price$44.95
AND
If you are going to splurge:
Rich & Skinny 'Legacy Leather' Faux Leather Skinny Jeans (Oxblood)$176.00
YUMM!
****
Go forth and enjoy